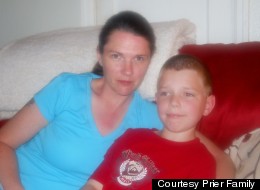 "I hear the horns."
Those were the four words with which Maddox Prier, a nine year old with autism, woke his family before the EF-5 tornado struck Joplin, Mo., one year ago. The family climbed into the bathtub for safety and the storm hit seconds later, kspr.com reports.
Huddled in the bathtub, Janyce told each family member how much she loved them -- but hours after the tornado passed, Maddox -- who spoke his first words at five years old and doesn't express much emotion -- changed her life again:
"We were laying on the floor of the bedroom, and I was just looking at Maddox, and I was like, 'I love you Maddox,' and he goes,
'I love you too, Mommy'
and he's never said it since," Janyce told KSPR. "That was the first time he'd ever said it. I bawled and bawled."
With the house and neighborhood destroyed, the family credits Maddox for saving them.
"I don't remember anything about the tornado hitting our house," Janyce told kspr.com. "I just, I guess in there somewhere, I just didn't want to be afraid, so the last thing I wanted to feel was that I loved everybody so, that's what I did."
Watch the video from KSPR above. And read more stories about other Joplin heroes here.